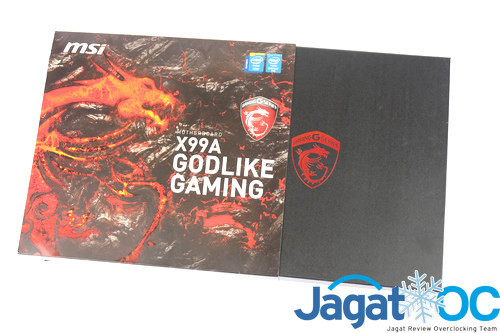 Sebagai platform PC dengan salah satu prosesor desktop terkuat saat ini, motherboard X99 dengan soket LGA2011v3 masih jadi pilihan utama penggemar PC kencang yang membutuhkan prosesor bertenaga besar. Untuk itu, tidak heran jika banyak vendor motherboard menawarkan solusi kelas enthusiast mereka untuk platform tersebut. Kali ini, MSI mengirimkan motherboard X99 kelas teratas mereka, X99A GODLIKE GAMING, untuk diuji kemampuannya di lab JagatOC.com
*Pengujian oleh: Jesse 'bboyjezz'  Putra*
X99A GODLIKE GAMING: Motherboard Gaming atau Overclocking?
Seperti biasa, motherboard berchipset X99 pastinya membawa serentetan fitur yang ditujukan bagi kelas enthusiast, seperti yang dihadirkan oleh motherboard MSI X99A GODLIKE GAMING ini. Mobo tersebut menyandang berbagai slot ekspansi ekstra, seabrek fitur Gaming, ekstra 'Bling' berupa RGB LED untuk penyesuaian corak warna motherboard dalam casing, namun yang menarik untuk disimak adalah kemampuan tuning dan opsi overclocking yang diberikan pada motherboard tersebut.
Spesifikasi & Fitur
Mari lihat fitur yang diusung motherboard X99A GODLIKE GAMING berikut ini:
Supports New Intel® Core™ i7 processors Extreme Edition in LGA 2011-3 socket
Supports Quad Channel DDR4-3400+(OC) Memory
Mystic Light: Style your favorite color from now on
2X Faster USB 3.1: Delivering speeds up to 10Gb/s, USB 3.1 offers performance twice as fast as a regular USB 3.0 connection.
DoubleShot-X3 PRO: Use Killer DoubleShot-X3 Pro to combine Killer WIFI with two Killer LANs for the best online gaming experience
Turbo U.2 SSD Solution: Take advantage from the whole new storage solution up to 2.4GB/s read speed
Turbo M.2 : Delivering next generation M.2 Gen3 x4 performance with transfer speeds up to 32 Gb/s
SATA Express + USB 3.1 + SATA 6Gb/s
Multi-GPU: 4-Way NVIDIA SLI & AMD CrossFire Support
OC Engine: Reach higher overclocking results with more flexible BCLK adjustments at 100/125/167MHz.
Audio Boost 3 RPO: Hear the sound from the heaven with 6.3mm audio jack and ESS audio DAC
USB Audio Power: Serve Stable 5V Power & Better Signal Transmission over USB
XSplit Gamecaster: Show off you skills to the world with a 1 year premium license for this popular streaming software
Guard-Pro: Improved Protection and Power Efficiency
OC Genie 4: Overclock in 1 Second
Gaming App: Boost your framerate
Click BIOS 4: Easily Fine-tune Your System
Nahimic Audio Enhacer: Enjoy sound that pushes the limits of reality.
Gaming Device Port: Optimized with Triple Gold-plating for High Polling Rate Gaming Devices
(Anda juga bisa melihat spesifikasi lebih lengkap pada websitenya berikut ini)
Ya, meskipun dijual dan dipromosikan sebagai motherboard kelas gaming, namun MSI juga berusaha menjual kemampuan overclocking pada motherboard X99A GODLIKE GAMING melalui dukungan RAM DDR4 Quad Channel ke DDR4-3400 atau lebih, pemasangan OC Engine untuk OC BCLK lebih baik, penggunaan VRM 12-phase dengan komponen berdurabilitas tinggi, disertakannya Fitur OC Otomatis OC Genie, dan juga pemberian semacam 'OC Socket', soket dengan interkoneksi khusus yang memberi kemampuan overclocking lebih baik, terutama pada overclockability Ring Frequency pada CPU. Ini berarti, MSI X99A GODLIKE GAMING bisa dikatakan sebagai sebuah opsi yang ditawarkan MSI untuk menghadirkan dua kelebihan dari seri motherboard Gaming dan OC Series mereka, pada satu board!
Tentu, ini membuat kami penasaran untuk melihat lebih dekat motherboard MSI X99A GODLIKE GAMING, dan melihat apa saja fitur penambah performa yang diusung motherboard premium tersebut. Berikut kami sajikan sebuah review yang mengulas motherboard MSI X99A GODLIKE GAMING, ditinjau dari sisi overclocker dan pengguna PC enthusiast yang ingin memaksa performa PC-nya hingga maksimal.
Testbed Specs
Spesifikasi PC yang digunakan untuk menguji MSI X99A GODLIKE GAMING kali ini adalah:
Processor: Intel Core i7-5960X Extreme Edition
Motherboard: MSI X99A GODLIKE GAMING
RAM: G.SKILL Ripjaws 4 Series DDR4-3000MHz, 4 x 4GB
VGA: NVIDIA GeForce GTX 980 Ti (1216Mhz Base, 1317Mhz Boost)
SSD: 120 GB Kingston HyperX Fury SSD
PSU: Corsair AX1200i
Cooling System: Noctua NH-U14S
Operating System: Windows 7 Ultimate 64-Bit SP1
Mari lihat kemasan, perlengkapan motherboard ini lebih dekat pada halaman selanjutnya!
Overview, Spesifikasi Motherboard, Testbed Spec