Pada ajang PC Gaming Show di E3 2015, AMD akhirnya mengumumkan solusi kartu grafis mereka yang terbaru: AMD Radeon R9 Fury X. Selama ini, kartu grafis yang berbasis AMD 'Fiji' GPU tersebut sudah ditunggu-tunggu para PC gaming enthusiast untuk kembali menempatkan AMD di posisi pemimpin performa grafis. Mari simak sedikit lebih dalam mengenai VGA terbaru AMD tersebut!
Radeon R9 Fury X: 4096 Stream Processor @ 1050Mhz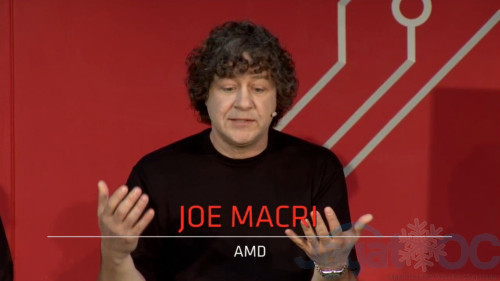 Joe Macri dari AMD nampak begitu excited saat memberikan pembahasan mengenai Radeon R9 Fury X, dan beliau menyebutkan bahwa tim desain VGA ini sudah memperhitungkan beberapa hal yang krusial untuk membuat AMD Radeon R9 Fury X dapat disebut sebagai GPU terkencang dunia.
Radeon R9 Fury X akan memiliki jumlah stream processor terbanyak dalam sejarah single GPU AMD, yakni 4096 Stream processors(a.k.a Radeon Cores) – yang akan memiliki kecepatan proses setidaknya 8.6 TFlops(dibanding 5.6 TFlops pada R9 290X). Dari data 8.6 Tflops ini kurang lebih dapat diperkirakan bahwa AMD Radeon R9 Fury X ini nantinya akan memiliki GPU Clock sekitar 1050Mhz.
4 GB HBM – 512GB/s Memory Bandwidth
GPU Fiji pada R9 Fury X akan ditemani memori bertipe HBM(High-bandwidth Memory) sebesar 4GB. Beberapa sumber seperti SK Hynix yang bekerjasama dengan AMD untuk mengembangkan teknologi HBM ini menyebutkan bahwa bandwidth memori HBM pada Radeon R9 Fury X akan mencapai 512 GB/s! Nilai ini JAUH mengalahkan bandwidth GDDR5 512-bit pada Radeon R9 290X yang 'hanya' 320GB/s.
Bandwidth yang luar biasa masif ini dapat tercapai karena penggunaan memory bus width yang sangat lebar, totalnya 4096-bit (catatan:1024-bit per 'stack', AMD Radeon R9 Fury X menggunakan 4 'stack HBM). Setelah menghitung nilai theoritical bandwidth dari R9 Fury X dan jumlah bus width-nya yang begitu besar, nilai 512 GB/s bandwidth ini sudah bisa dihasilkan oleh chip DRAM dengan rating kecepatan rendah, yakni 1 Gbps( 500Mhz).
Dilengkapi Watercooling, "An Overclocker's Dream"
Beberapa gambar yang ditampilkan AMD sesuai dengan beberapa 'bocoran' mengenai AMD Fiji yang sudah beredar akhir-akhir ini, dimana card AMD Fiji teratas(Radeon R9 Fury X) akan langsung memiliki solusi pendingin watercooling dari pabrik, mirip dengan AMD Radeon R9 295X2.
AMD belum menyebut berapa pastinya TDP dari R9 Fury X, namun Joe Macri menyebutkan bahwa solusi watercooling yang dimiliki AMD nanti memiliki kemampuan heat dissipation setidaknya 500W, (mirip dengan yang dimiliki oleh watercooling bawaan R9 295X2) dan nanti akan sanggup menjaga suhu operasi Radeon R9 Fury X pada 50 C. Pada saat ini, Joe Macri mengungkapkan sebuah kata-kata yang langsung menarik perhatian kami. "This is an Overclockers' Dream", dan "You'll be able to overclock this thing like no tomorrow", ujar Joe.
Sebagai detail tambahan, Joe menyebutkan Radeon R9 Fury X dilengkapi regulator daya 6-phase dengan rating 400Amps total  – jelas tidak buruk untuk sebuah 'reference' card!
Radeon R9 Fury X: Akankah OC-Friendly?
Beberapa waktu ke depan akan menjadi saat-saat paling menegangkan, dimana AMD Radeon R9 Fury X yang berharga USD 649, akan memperebutkan gelar GPU tercepat di Dunia, melawan GeForce GTX Titan X dan GeForce GTX 980 Ti. Tapi perhatian kami tetap ada pada overclocking headroom yang dimiliki Radeon R9 Fury X. Mengapa? Jawabnya mudah: pengguna yang sudah merogoh kantong sebegitu dalam untuk memiliki VGA berharga lebih dari 500 USD umumnya menginginkan kinerja yang terbaik, dan overclocking adalah salah satu cara untuk mendapatkannya!
Kami benar-benar berharap bahwa pernyataan AMD yang menyebutkan Radeon R9 Fury X sebagai 'Overclocker's Dream' bukanlah kata-kata manis untuk tujuan marketing belaka, karena kami memperkirakan bahwa faktor overclocking bisa jadi yang menjadi penentu apakah Radeon R9 Fury X bisa bertahan di posisi teratas. GeForce GTX Titan X memiliki headroom overclocking yang cukup baik, walau kadang terbentur 'power limit' yang diberikan NVIDIA, sedangkan GeForce GTX 980 Ti versi non-reference akan datang dengan clock bombastis, mungkin sekitar 15-20% lebih kencang dari defaultnya. Meski nanti para reviewer akan membandingkan Radeon R9 Fury X dan GTX Titan X dalam keadaan default, tapi kami memperhitungkan bahwa pengguna enthusiast akan membandingkan keduanya saat dalam keadaan di-overclock, untuk melihat siapa yang berhak dijuluki 'GPU terkencang dunia'.
Kami sendiri sudah sangat penasaran melihat performa R9 Fury X, dan menunggu satu card singgah di lab JagatOC. Semoga saja watercooling yang diusung oleh Radeon R9 Fury X, dan juga kemampuan power regulator-nya mampu memberikan ruang overclock yang baik bagi Radeon R9 Fury X. Sampai jumpa di pembahasan kami yang berikutnya.
Let's see if those cards deserve to be called "an overclocker's dream". Challenge accepted, AMD!