Baru saja tanggal 19 Oktober 2015 kemarin EK meluncurkan kakak dari Predator 240 yang dirilis belum lama ini. EK-XLC Predator 360 memiliki spesifikasi yang mirip dengan Predator 240, namun yang membedakan kedua produk ini adalah ukuran dari radiatornya. Predator 360 menggunakan tripple rad 120mm (3x120mm). Untuk ukuran lengkap mengenai Predator 360 kami berikan pada gambar berikut:
*Klik gambar untuk memperbesar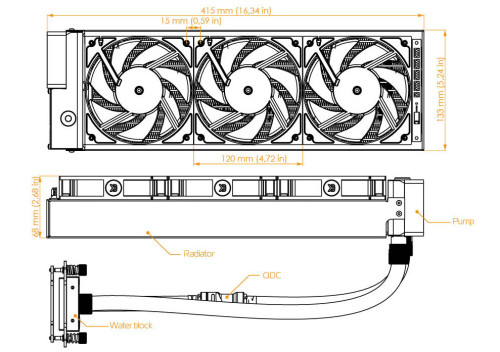 Ukuran total (termasuk dengan fan dan pompa) radiator Predator 360: 415 mm x 133 mm x 68 mm (Panjang x Lebar x Tinggi). FAN sudah terpasang semenjak keluar dari kemasan sehingga produk ini sudah siap untuk langsung digunakan. Fan yang digunakan EK adalah 3 buah VardarTM Fan yang menggunakan PWM dan dihubungkan ke PWM Controller pada pompa.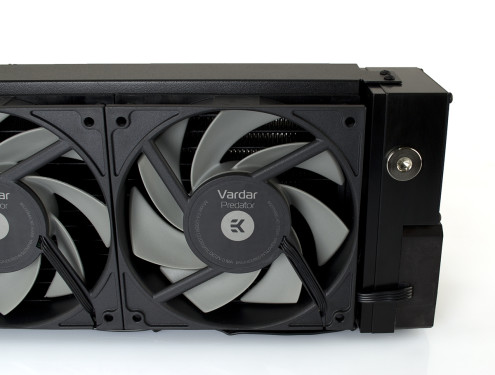 Pada bagian samping pompa, EK memberikan sebuah lubang yang ditutup dengan besi dan dapat dibuka untuk mengisi coolant yang mungkin terbuang ketika membuka melakukan pemasangan pada custom water cooling atau untuk mengganti coolant sesuai dengan yang diinginkan. Nampaknya tutup besi ini dapat dibuka dengan menggunakan obeng Hex (Segi 6).
Seperti adiknya Predator 360 juga sudah disiapkan untuk digabungkan dengan custom setup dengan menggunakan fitur Quick Disconnect (QDC). QDC ini akan berada pada salah satu selang dekat dengan CPU Water Block dan setelah dilepas dapat digabungkan degan setup water cooling custom lainnya.
Tidak disangka bahwa EK juga telah mempersiapkan QDC untuk GPU Water Block mereka, dan project ini akan siap pada tanggal 5 November 2015 mendatang. Pemesanan GPU dengan QDC dapat dilampirkan dalam pemesanan produk yang diipilih, lalu EK akan mengirimkan sebuah paket penjualan GPU Water Block yang sudah terpasang sistem QDC ini dan sudah diisi dengan coolant standard EK. Tidak hanya bundling saja, namun EK juga memberikan kemudahan untuk dapat memesan sistem QDC GPU Water Block secara terpusah bagi pada customer mereka yang telah memiliki EK GPU Water Block.
Untuk lebih lengkap berikut ini penjelasan dari EK mengenai komposisi produk yang digunakan oleh EK-Predator
*Klik gambar untuk memperbesar
[table width ="100%" style ="" responsive ="false"]
[table_head]
[th_column][/th_column]
[th_column][/th_column]
[/table_head]
[table_body]
[table_row]
[row_column]HovercoreTM is revolutionary design of radiator dampeners that prevents transfer of pump vibrations further down the unit and into the chassis, thus resulting in vibration free and silent operation.[/row_column]
[row_column]CoolStreamTM PE radiator – 240mm or 360mm, has full Copper core being superior to aluminum alternatives in terms of heat dissipation. In conjunction with EK-Vardar fans the result is increased performance across entire fan operational range thus delivering results both at low and high airflow operation.[/row_column]
[/table_row]
[table_row]
[row_column]SupremacyTM MX CPU water block, top performer in Enthusiast segment, is specifically designed for Intel CPUs and offers great hydraulic and thermal performance. Carefully machined copper base is made from purest copper available and is further polished to absolute mirror finish. This alone greatly improves the cooling performance of the block.[/row_column]
[row_column]VardarTM fans – two on Predator 240 and three on Predator 360 – are high static pressure fans developed in-house specifically for liquid cooling systems. With low noise profile and PWM technology built in, you can always control the RPM and keep the fans silent while maintaining excellent cooling performance.[/row_column]
[/table_row]
[table_row]
[row_column]Integrated Fan splitter hub reduces cable clutter and keeps the unit aesthetically clean. Predator pump and fans plug into the unit itself with only one PWM cable going into CPU Fan socket, while a single SATA molex cable powers the complete unit.[/row_column]
[row_column]DDC pump is a powerful 6W liquid cooling pump providing 2-3x higher flow rate compared to other AIOs on the market. It's also PWM controlled allowing for automatic pump speed regulation depending on your CPU temperature. Full performance on demand or whisper quiet operation in idle mode![/row_column]
[/table_row]
[/table_body]
[/table]
Setelah merilis kedua AIO ini, EK merilis sebuah video tutorial untuk melakukan pemasangan yang dimulai dari membuka paket penjualan hingga pemasangan Predator 360 pada beberapa jenis platform (Link video kami cantumkan diakhir artikel). Hingga saat ini EK-XLC Predator 360 dan 240 belum dapat digunakan pada platform AMD, dan EK sedang merencanakan untuk merilis support di platform AMD pada tahun 2016 mendatang.
Video Installasi dari EKWB: Video Link
Sumber: EKWB