Peminat overclocking dari berbagai penjuru dunia nampaknya mulai meningkat perlahan-lah sejak beberapa tahun lalu. Minat yang cukup besar ini akhirnya memancing minat para vendor hardware untuk mensponsori berbagai kegiatan yang melibatkan overclocking. ASUS, salah satu vendor hardware ternama yang dikenal overclocker lewat seri ROG(Republic of Gamers)-nya, baru-baru ini mengadakan sebuah 'Overclocking Tour' yang dimulai tanggal 27 Februari 2016 kemarin.
OC Tour yang dimulai di Kolkata ini sendiri merupakan bagian dari tour 4 kota, bertujuan untuk mengumpulkan berbagai overclocking enthusiast dari seluruh India. Fokus dari ASUS sendiri adalah memberikan berbagai informasi seputar overclocking dan yang pastinya bertujuan membangun komunitas overclocking di sana.
Yang menarik, selain dihadiri oleh para overclocker legendaris asal India seperti seperti Shatul Durlabji (a.k.a 'Toolius'), Sumon Pathak, dan Amey Gokhale, ASUS secara khusus mengundang salah satu overclocker terbaik dunia asal Indonesia, Bpk. Hazzan Jadid , untuk menjadi mentor dan mendidik overclocker disana untuk bisa memaksimalkan Hardware-nya.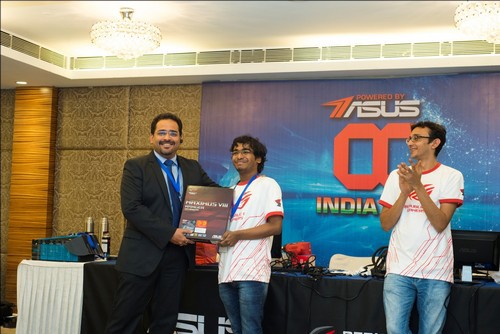 Tentu, untuk membuat acara makin seru, ASUS mengadakan kompetisi overclocking di sana dengan berbagai hadiah menarik.
Vinay Shetty, Regional Director Component Business ASUS India yang menyelenggarakan acara ini sendiri mengatakan:
"For ASUS, overclocking has always been a very key area of focus. We started this program five years ago in Mumbai. During our last OC event, many of our Kolkata loyalists urged us to come to their city. That triggered the idea of an OC Tour, something no one has done in this country. It would give us a chance to meet all these budding enthusiasts face to face and understand their sentiment, gauge their feedback and nurture an ever growing community."
Fokus kepada overclocker ini yang membuat kami dari JagatOC kagum terhadap apa yang dilakukan ASUS bagi komunitas overclocker dari seluruh dunia, dan berharap semakin banyak vendor yang akan mengadakan acara serupa. Keep pushing it, India!