Overclocking & Review: Corsair Vengeance RGB PRO DDR4-3200CL16 16GB Kit (di platform Intel Z370 & AMD X470)
Pada pertengahan tahun 2018 ini kehadiran memori DDR4 dengan tema RGB pun sudah menjadi hal yang sangat biasa kita lihat. Namun pada saat ini kita juga melihat bahwa beberapa 'memori RGB' baru yang rilis tersebut datang dengan IC Samsung B-Die, seperti Corsair Vengeance RGB PRO RGB yang datang ke lab kami ini.  Saat artikel ini rilis, IC Samsung B-die adalah IC yang secara spesifik dikenal memiliki kemampuan overclocking yang tinggi dan level kompatibilitas yang sangat baik bagi perbagai platform. Dari sisi harga pun kita melihat bahwa harga memori DDR4 ini semakin bersaing dengan ketat, terutama pada konfigurasi sweet spot DDR4-3200 sampai dengan DDR4-3600.
Pada artikel ini kami JagatOC akan menguji kemampuan overclocking Corsair Vengeance RGB PRO DDR4-3200CL16 16GB Kit. Pengujian ini akan difokuskan untuk mencari seberapa jauh kemampuan overclocking yang ditawarkan oleh kit memori tersebut, dan melihat performa seperti apakah yang akan didapatkan setelah melakukan overclocking.
(catatan: Memori kit ini sendiri sudah pernah dibahas pada artikel sebelumnya di JagatReview, simak artikel ini jika anda ingin melihat fitur dan performa out of the box dari Corsair Vengeance RGB Pro DDR4-3200 CL16)
Corsair Vengeance RGB Pro DDR4-3200 (CMW16GX4M2C3200C16W)
Berikut ini spesifikasi Corsair Vengeance RGB Pro DDR4-3200 CL16, sesuai dengan yang tertera di website nya:
Kapasitas: 2 x 8GB (per modul 8GB), total 16GB
Frequency(XMP) : DDR4-3200
Timing(XMP, CL-TRCD – TRP – TRAS): 16-18-18-36
Voltage(XMP): 35v
Vengeance RGB Pro DDR-3200 CL16 16GB kit ini datang dengan konfigurasi 2(dua) keping, yang setiap keping nya memiliki kapasitas 8GB. Dengan konfigurasi ini maka memori ini diperuntukan untuk berjalan dalam mode dual channel. Target platform ini sendiri adalah untuk Intel Z170, Z270, dan Z370 yang men-support XMP secara penuh. Namun pada kecepatan & Timing  DDR4-3200 CL16-18-18-36 memori ini akan dapat berjalan juga dengan mudah pada platform AMD AM4 dengan prosesor Ryzen, terutama Ryzen 2nd Gen Pinnacle Ridge.
Untuk menjalankan RAM ini pada rated speed-nya, pengguna perlu menyalakan XMP pada motherboard mereka. Jika XMP tidak diaktifkan, maka RAM ini hanya akan berjalan pada DDR4-2133 CL15-15-15-36.
Deteksi IC di Thaiphoon Burner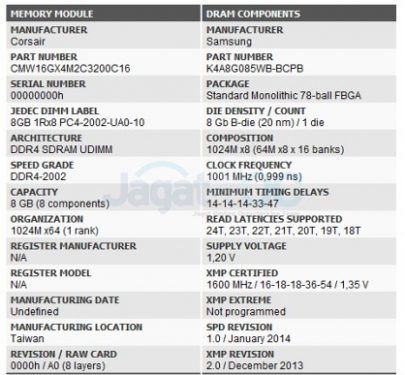 Gallery
Ruang Lingkup dan Metode Pengujian
Pada hands-on kali ini, kami akan melakukan beberapa pengujian yang melingkupi:
Pembahasan rating XMP dan juga performa RAM saat XMP.
Overclocking RAM singkat secara Manual
Percobaan ini akan dilakukan pada 2 platform yaitu Intel dan AMD
Sebagai tambahan, karena yang menjadi fokus adalah overclockability RAM saat menangani berbagai setting dan konfigurasi tertentu, pengujian akan dilakukan kebanyakan pada benchmark sintetis, seperti:
Geekbench3 – Memory Score Multi-core (BUKAN TOTAL SCORE)
Geekbench4 – Single Core & Multi Core
3DMark11 Physics Score
3DMark Time Spy Physics Score
Testbed
Testbed Intel
Processor: Intel Core i7 8700K (Coffee Lake) @ 4.8GHz
Motherboard: MSI Z370 Godlike Gaming (BIOS Ver. A50)
CPU Cooler: Cooler Master MasterLiquid Lite 120
RAM: Corsair Vengeance RGB Pro DDR4-3200 CL16 16GB Kit (2x8GB, dual-channel)
VGA: Zotac GTX 1050 Mini
Storage: Toshiba Q300 Pro 240GB
PSU: Corsair CX550
OS: Windows 10 Spring Creators Update 1803
Testbed AMD
Processor: AMD Ryzen 5 2600 (Pinnacle Ridge) @4.0GHz
Motherboard: MSI X470 Gaming M7 AC (BIOS Ver. 1.20)
CPU Cooler: Cooler Master Masterliquid Lite 120
RAM: Corsair Vengeance RGB Pro DDR4-3200 CL16 16GB Kit (2x8GB, dual-channel)
VGA: Zotac GTX 1050 OC
Storage: Toshiba Q300 Pro 240GB
PSU: Corsair CX550
OS: Windows 10 Spring Creators Update 1803
Pengujian oleh Chandra Wijaya 'BlueFiber', editing oleh Alva Jonathan 'Lucky_n00b'