Keinginan untuk memiliki PC yang bertenaga besar namun berukuran kecil kadang-kadang menjadi hal yang agak sulit dipenuhi. Meski sekarang sudah banyak opsi yang tersedia untuk membuat PC mungil nan kencang serta overclockable, kadang ada satu masalah fundamental yang selalu menghantui para pecinta Small Form Factor(SFF) PC, yakni masalah suhu.
Seperti yang pernah kami bahas sebelumnya, menemukan heatsink berukuran kecil yang bertenaga bukan hal yang mudah. Maka dari itu, kami dari JagatOC melakukan sebuah eksperimen: menguji beberapa heatsink mini dan memadukannya dengan prosesor high-end yang dioverclock. Heatsink yang kami pakai untuk pengujian ini adalah Noctua NH-U9S dan Noctua NH-D9L.
Noctua NH-U9S dan Noctua NH-D9L
Nama Noctua identik dengan heatsink berperforma tinggi dengan kebisingan rendah. Meski banyak vendor yang beralih ke sistem pendingin watercooling compact/AIO, Noctua tetap setia dengan pendingin heatsink tradisional, dan bahkan masih terus mengeluarkan berbagai pendingin untuk berbagai kebutuhan pengguna PC, seperti Noctua NH-U9S dan Noctua NH-D9L yang didesain untuk PC berukuran compact.
Kami sudah menguji NH-U9S pada artikel sebelumnya, dan kali ini giliran kami menjajal kemampuan Noctua NH-D9L saat menghadapi sebuah prosesor Core i7 yang dioverclock.
Mari mulai!
Spesifikasi Noctua NH-D9L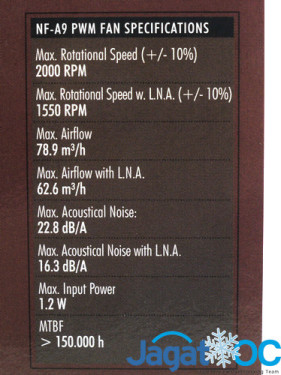 Berikut spesifikasi lengkap dari Noctua NH-D9L, sesuai dengan yang disebutkan pada website resminya:
Heatsink Specs
Socket compatibility Intel LGA2011-0 & LGA2011-3 (Square ILM), LGA1156, LGA1155, LGA1151, LGA1150 & AMD AM2, AM2+, AM3, AM3+, FM1, FM2, FM2+ (backplate required)
Height (without fan) 110 mm
Width (without fan) 95 mm
Depth (without fan) 95 mm
Height (with fan) 110 mm
Width (with fan) 95 mm
Depth (with fan) 95 mm
Weight (without fan) 428 g
Weight (with fan) 531 g
Material Copper (base and heat-pipes), aluminium (cooling fins), soldered joints & nickel plating
Fan compatibility 92x92x25mm
Fan Specs
Fan specifications
Model Noctua NF-A9 PWM
Bearing SSO2
Max. Rotational Speed (+/- 10%) 2000 RPM
Max. Rotational Speed with L.N.A. (+/- 10%) 1550 RPM
Min. Rotational Speed (PWM, +/-20%) 400 RPM
Max. Airflow 78,9 m³/h
Max. Airflow with L.N.A. 62,6 m³/h
Max. Acoustical Noise 22,8 dB(A)
Max. Acoustical Noise with L.N.A. 16,3 dB(A)
Input Power 1,2 W
Voltage Range 12 V
MTBF > 150.000 h
Testbed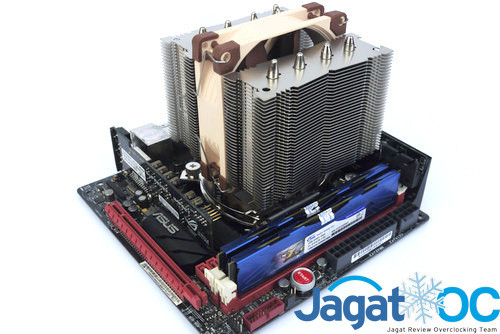 Berikut spesifikasi testbed yang kami gunakan untuk menguji overclocking dengan Noctua NH-D9L:
Processor: Core i7-4790K 'Devils Canyon'
Memory: Team Zeus DDR3-1600C9 2x4GB
Motherboard: ASUS Maximus VI Impact
Graphics Card:MSI GTX 960 Gaming 2G
Storage: Kingston HyperX 3K 120 GB
Power Supply: Enermax NAXN 500W
Operating System: Windows 7 Ultimate 64-Bit SP1
Tidak tanggung-tanggung, kami menggunakan prosesor Core i7-4790K 'Devils Canyon' yang terbilang cukup powerful di kelas PC mini-ITX untuk menguji heatsink ini. Kami tadinya ingin menggunakan prosesor Skylake i7-6700K, namun belum menemui motherboard mITX Z170 yang tangguh untuk menghadapi skenario overclocking yang agak berat, sehingga kami memilih untuk menggunakan prosesor i7-4790K dengan motherboard LGA1150 Maximus VI Impact yang sudah dikenal ketangguhannya.
Skenario Pengujian
Berbeda dengan pengujian biasanya, di sini kami membebani prosesor dengan software Intel XTU Stress Test yang load-nya sedikit lebih 'manusiawi' dibandingkan program LinX yang biasa kami pakai.  Program Core Temp 1.0 RC5 kami gunakan untuk merekam suhu selama pengujian.
Skenario pengujian kami sebagai berikut:
Memberikan Full Load kepada CPU selama +/- 15 Menit dengan Intel XTU Stress Test, kami mencatat suhu average-nya
Setelah pengujian Intel XTU Stress test selesai, kami membiarkan sistem untuk idle selama 3 menit, dan  suhu idle
Suhu ruang(ambient) dijaga pada 26.5 – 27 C.
Setting Prosesor
Setting prosesor Core i7-4790K kami diset pada:
Default (4Ghz Base, 4.2 Ghz Turbo 4-Core, 4.4Ghz Turbo 1-Core, VCore 1.15V)
4.5 Ghz, VCore 1.25V
4.7 Ghz, VCore 1.3V
Selain setting frekuensi CPU dan VCore , setting lain yang kami lakukan adalah:
DRAM Frequency: (XMP)DDR3-1600
DRAM Timing: (XMP)9-9-9-24 2T(CAS-TRCD-TRP-TRAS-CMD Rate)
CPU Ring Ratio: 40
CPU Ring Voltage: 1.15V
CPU SA Voltage :Default( 0.856V)
CPU IOA Voltage: Default (1.012V)
CPU IOD Voltage: Default(1.112V)
OS Power Management diset ke High Performance
Overview, Spesifikasi HSF, Testbed, Skenario Uji