Uji OC(Extreme Cooling) Part 4: 4-way CrossfireX R9 290X All-out
Sekarang, kami akan melakukan pengujian skenario Extreme Overclocking pada 4-way Crossfire R9 290X, dengan bantuan pendingin ekstrim(Liquid Nitrogen-LN2) juga tentunya.
Berikut ini spesifikasi sistem yang kami gunakan:
Prosesor: Intel Core i7-4960X Extreme Edition
Motherboard: ASUS Rampage IV Black Edition
RAM: G.Skill TridentX DDR3-2666C11 4x4GB
VGA: 4x MSI AMD Radeon R9 290X
SSD: Kingston HyperX 3K 120GB
PSU1: CoolerMaster SilentPro M2 1500W (Untuk CPU, SSD, fan)
PSU2: Corsair AX1200i 1200W (Untuk GPU 1 & GPU 2)
PSU3: Corsair AX1200 1200W (Untuk GPU 3 dan GPU 4)
CPU Cooler: Kingpincooling Venom CPU LN2 Pot
GPU Cooler : 3x Kingpincooling Tek9 + 1 Kingpincooling Tek9 FAT GPU LN2 Pot
OS: Windows 7 SP1 64-bit
Karena konsumsi daya dari GPU R9 290X yang begitu besar, kami terpaksa menggunakan 3(tiga) Power Supply. Satu PSU kami gunakan untuk mensuplai daya ke CPU saja, sedangkan kedua PSU lain akan mensuplai keempat GPU(1PSU menyuplai 2 GPU). Berikut ini penampilan sistem kami:
*klik untuk memperbesar*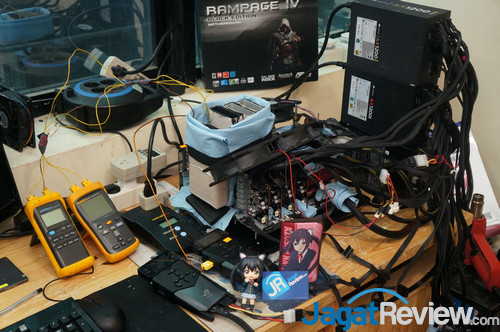 Setting BIOS
Untuk setting BIOS, kami me-load LN2 OC Profile 1, kemudian melakukan beberapa setting tambahan, seperti BCLK ke 125Mhz, CPU Multiplier 40x, VCore pada 1.6V. Perlu diketahui pada OS nanti kami akan melakukan fine tuning CPU Vcore dan CPU Multiplier melalui OC Panel.
CPU Bclk : 125Mhz
CPU ratio : Boot 40x (5Ghz) – on OS With OC Panel 45x (Final Frequency: 5.6Ghz)
DRAM Ratio : DDR3-2666Mhz
DRAM Timings : 10-13-12-21 1T (Load 4x4GB Hynix CFR 2750 1.85V)
CPU VCore : Boot 1.6 V – on OS with OC Panel 1.76V
CPU VCCSA: 1.3 V
CPU VTT : 1.25 V
DRAM Voltage: 1.75V
Setelah beberapa jam mencoba berbagai setting, ditemukan bahwa prosesor yang kami miliki menemui limitnya pada Clock 5.62Ghz (125Mhz x 45). Berikut ini skor maksimal yang kami raih pada setup ini, yakni 38039 di 3DMark11.
*klik untuk memperbesar*
Skor 38039 yang kami miliki termasuk tinggi untuk standar pengguna biasa, namun sayangnya masih cukup jauh dari World Record. Saat artikel ini dibuat, skor kami hanya menempati urutan 11 di ranking world record 3DMark11 :(. Oh well, we'll do better next time!
Sebagai catatan tambahan, skor 4-way Crossfire yang dibuat diatas membantu tim Indonesia dalam meraih posisi 3 besar dalam kompetisi OC online antarnegara Hwbot Country Cup 2013 tahun lalu.