Clockspeed & AMD Turbo Core
Bagi prosesor modern, manajemen daya sangat penting untuk menjaga konsumsi daya dan thermal load tetap rendah, dan bagi prosesor dengan TDP(Thermal Design Power) yang dilimit pada 65W seperti A10-7860K(bukan 95W seperti APU kelas atas biasanya), tentunya prosesor tersebut akan memiliki setting frekuensi dan voltase lebih rendah dari umumnya. Untungnya prosesor tersebut masih memiliki fitur AMD Turbo Core untuk meningkatkan kecepatannya pada load ringan.
Berikut ini clockspeed dari AMD A10-7860K pada beberapa keadaan:
Idle, 1.4 Ghz
1-Core load, AMD Turbo Core up to 4Ghz
Full Core(4-Core) load, AMD Turbo Core 3.6 – 3.8Ghz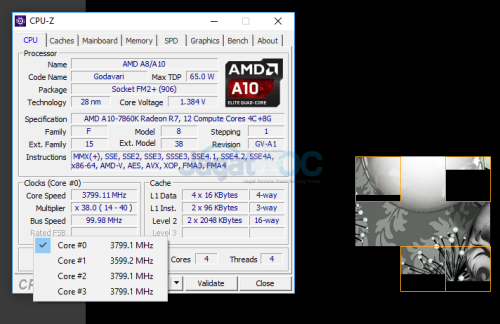 CPU + GPU load, CPU downclock to 2.5Ghz
Bisa dilihat di atas, AMD A10-7860K mengubah-ubah clockspeednya sesuai keadaan. Pada load ringan(1 Core / single-threaded load), prosesor tersebut bisa meningkatkan kecepatannya hingga 4 Ghz, namun pada saat semua core-nya dipakai, kecepatannya bervariasi antara 3.6 – 3.8Ghz. Pada saat IGP aktif dan mengalami heavy load, CPU diturunkan lebih jauh lagi ke 2.5Ghz untuk menjaga konsumsi daya dan juga thermal load tetap rendah.
Benchmark Sintetis
Berikut ini beberapa benchmark sintetis yang kami lakukan untuk melihat performa A10-7860K pada keadaan defaultnya:
*klik untuk memperbesar*
Cinebench R15, CPU Multi Core 302cb, CPU Single Core 90cb
3DMark Fire Strike, 1570 3DMarks
Berdasarkan benchmark sintetis seperti Cinebench R15, prosesor A10-7860K menunjukkan performa prosesor yang tidak jauh berbeda dengan APU sebelumnya yang memiliki prosesor serupa, namun bisa dimaklumi kalau kecepatan saat multi-corenya mendapat hasil lebih rendah dari prosesor sekelas A10-7870K yang memiliki TDP lebih tinggi. Jika ingin dibandingkan dengan pesaing mereka daru kubu biru, kami memperkirakan bahwa performa prosesor A10-7860K akan terletak sedikit di bawah Core i3-4130 'haswell', dan lebih kencang dari Pentium G4400 'Skylake'
Dari sisi IGP di 3DMark Fire Strike, performa Radeon R7 IGP yang ada di A10-7860K memiliki kinerja sedikit lebih kencang dari sebuah Radeon R7 240 GDDR3, dan sedikit ada di bawah GeForce GT 730.
Untungnya, prosesor A10-7860K adalah prosesor seri-K yang berarti akan mudah di-overclock lewat Multiplier yang unlocked. Mari simak uji overclock di halaman berikutnya!
Clockspeed & AMD Turbo Core, Benchmark Sintetis